During photokina 2012 which took place in late September we had a chance to interview most of the major players in the photography industry. Today we bring to you our interview with Carl Zeiss which deals with the some of the new and upcoming lenses showcased during the expo.
During photokina 2012 we had a chance to interview Mr. Bertram Hönlinger from Carl Zeiss. Some of our readers might remember our interview with Mr. Hönlinger during photokina 2010.
The huge lens at the Zeiss booth in photokina 2012
During photokina Zeiss showcased several new and upcoming products including the new Carl Zeiss APO Sonnar T 135mm f/2 ZE/ZF.2 (aimed at Canon and Nikon Cameras). We had a chance to test this amazingly sharp lens using a D3S with a focusing screen from KatzEye which is very helpful for manual focus lenses.
The new 135mm f/1.8 on Nikon D3S
The second lens we tested was the upcoming Carl Zeiss 55mm f/1.4 – it was still an early prototype at the time so our impression has more to do with the design and specifically the enormous front element (82mm) – large by any measure and unheard of in 50mm~ lenses, but it was very unusual and quite different externally than any other Zeiss lens we have seen to date.
The upcoming Carl Zeiss 55mm f/1.4
Three other lenses that where first shown during photokina and should reach the market in 2013 (for Sony NEX and Fuji only at this point) are short and normal prime lenses: 12mm f/2.8 ultra wide, 32mm f/1.8 fast prime and 50mm f/2.8 macro. All lenses should run for about 1000 euros.
The upcoming 12mm ultra wide Zeiss
The upcoming 32mm f/1.8 fast prime
Interview with Mr. Bertram Hönlinger at photokina 2012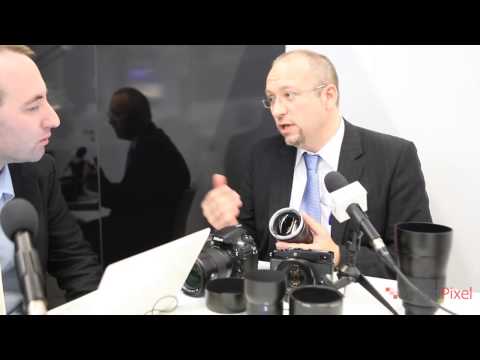 A few points from the interview:
All other things being equal you can potentially decrease the size of a lens by 20-30 percent when going from Full Frame to APS-C and about 30-40 percent when moving to micro 4/3 – but this really depends on the type of lens.
The point of developing the new Carl Zeiss 55mm f/1.4 is to bring unprecedented performance in open apertures. The lens design is actually made of a combination of two different lenses and is a new, first of its kind for a 50mm lens.
The new 82mm front element was designed to produce sharpness across the entire frame.
Don't expect any AF capable lenses from Zeiss in the foreseeable future for Canon/Nikon.
Zeiss can add a stabilizer to manual focus lenses but this will degrade the optical quality of the lens to a degree (it will require some freedom of movement from the optical elements) and so not something Zeiss plans to do anytime soon.
Zeiss highly recommends that you use a focusing screen when using a MF lenses – this is because the conventional focusing screen of digital cameras isn't ideal for manual focus (we can surly attest to that).
Our final question had to do with a hypothetical size of a 50-100mm f/2 lens compared to the more conventional 70-200mm f/2.8. The answer – we are looking into a heavier and larger design and not something most people would like to carry or pay for…
Another look at the Carl Zeiss 55mm f/1.4
Not too long after photokina Carl Zeiss announced 2 new lenses for micro 4/3: 135mm f/1.8 and 15mm f/2.8. Both are basically existing Zeiss lenses in a new mount. We asked Zeiss to clarify the announcement for us and here is what they had to say:
The two new 15 and 135mm  lenses that we offer for micro 4/3 are within our Compact Prime CP.2 family of lenses. These are lenses for cinematography not for photography. All of our Compact Prime CP.2 and Compact Zoom CZ.2 lenses are equipped with an interchangeable mount. That means that they can used with many different cameras. At the moment we offer the lenses with PL, EF, F, E and Micro 4/3 mount. For more information please check www.zeiss.com/cine/cp2. It was no great development effort for us to provide theses existing lenses with an interchangeable mount for Micro 4/3. These lenses are mainly used with cameras like the Panasonic AF-101. We also introduced these focal length as lenses for photography but only with EF and F mount for Canon and Nikon cameras within our current SLR lenses lineup.
We asked about the differences between the new micro 4/3 lenses and the existing Canon/Nikon varients:
And you are right, the optics of our SLR lenses and our CP.2 lenses that are also available with Micro 4/3 are the same. There are only differences in the mechanics and the housing.
Finally we used this opportunity to ask Zeiss about their intentions regarding new upcoming ultra wide lenses for Micro 4/3:
As we only have limited development and production capacities, we decided first to offer lenses for DSLM cameras with APS-C sensor. Another main reason not providing Micro 4/3 lenses is to offer lenses of very high quality. The image quality of the system also hinges on sensor size. Therefore, we intend to concentrate initially on the biggest sensor size in this segment which is APS-C. It would be possible for us to make lenses for Micro 4/3-bajonet as well but we have not made a decision on that yet.If current APS-C or SLR lenses were also used for the Micro 4/3-bajonet, we wouldn't be able to achieve the best tradeoff between lens size (weight), and image quality.
Feel free to view our full photokina 2012 English coverage on our dedicated page.
The MegaPixel.co.il team were the guests of Leica for photokina 2012
This is an English version of an article originally published on the Israeli Photography website MegaPixel.co.il