During photokina 2012 which took place in late September we had a chance to interview most of the major players in the photography industry. Today we bring to you our interview with Canon Europe which deals with the newly introduced 6D as well as a host of other subjects.
During photokina 2012 we had a chance to interview Mike Owen, Professional Image Marketing Manager for Canon Europe and Richard Shepherd, Senior Product Specialist, Digital SLR and EF Lenses for Canon Europe. This is actually our second interview with Mr. Owen at photokina (
our last time was during photokina 2010
when we spoke with him and Peter Yabsley). Mr. Owen is currently one of Canon's top guys in Europe and we were privileged to get about 30 minutes out of his extremely busy schedule during photokina this year to answer some of our questions.
Canon EOS 6D (Credit: Ofir Iluz/Megapixel.co.il)
A substantial part of the interview was naturally dedicated to the 6D which was announced just before the show and falls under Mr. Shepherd's responsibility.
Interview with Mike Owen & Richard Shepherd (HD is recommended and so is turning up the volume)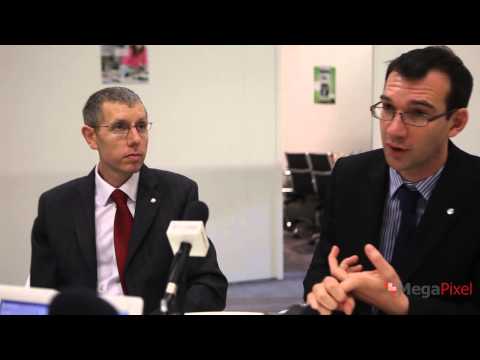 A few points from the interview:
Richard Shepherd explained in a few words in the interview about project 1709 (the name is actually the date of the beta announcement). The project is invitation only at this stage.
The events in Japan in 2011 had a lot of influence on the actual launch of the 1D-X – Canon used the time to tweak and improve the finished product.
Regarding the delays in launching some of the long telephoto lenses – Canon states that it was important to reach full production capability as to not cause delays later on.
For Canon – the 6D is the idea travel camera. Although there might be other target audiences for the 6D – people who travel and like a quality camera they can carry are very high on the list.
The 6D will not be the only DSLR wit GPS and WIFI but don't expect every model from now on to come with these features.
Although we asked – we didn't get a direct answer whether or not the EOS-M can be fitted with and external digital viewfinder and if it can – does Canon has any plans to do so.
According to Canon, Pro photographers do not trust digital viewfinders and so for pro cameras, optical viewfinders are here to stay.
 Adding a focus limiter in the camera is possible technically, however Mike Owen explained that so far Canon did not receive substantial enough request for this feature from its costumers.
The APS-H format is not necessarily dead – this actually depends on the market and the consumer needs.
The eye-control-focus technology (used for example in the Canon EOS-3) is gone, but it might return again in the future. In the past some photographers liked it but some didn't so its an open issue.
Don't expect a road map from Canon for its EOS-M lenses (unlike Sony, Samsung, Fuji, Panasonic etc.). Canon is going to focus on what it feels are the right lenses for this format (i.e. mostly compact lenses).
25 years for the EOS system (Credit: Ofir Iluz/Megapixel.co.il)
-
Prototype of the Canon EF 200-400 f/4L IS 1.4x  (Credit: Ofir Iluz/Megapixel.co.il)
-
Canon EOS-M during the company's press event (Credit: Ofir Iluz/Megapixel.co.il)
-
Feel free to view our full photokina 2012 English coverage on our dedicated page.
The MegaPixel.co.il team were the guests of Leica for photokina 2012
This is an English version of an article originally published on the Israeli Photography website MegaPixel.co.il