During photokina 2012 which took place in late September 2012 we had a chance to interview most of the major players in the photography industry. Today we bring to you our interview with Mr. Stefan Daniel – Leica's product manager which deals with all of Leica's new line of products.

During photokina 2012 we had a chance to interview Mr. Stefan Daniel from Leica. Some of our readers might remember our interview with Mr. Daniel during photokina 2010. This is the fourth and final interview we conducted with managers from Leica (after our previous interviews with Stephan Schulz, Jesko Von Oeynhausen and Maike Harberts).
Mr. Stefan Daniel with Leica's new line of products (Credit: Ofir Iluz)
-
Interview with Mr. Stefan Daniel – photokina 2012 (HD recommended)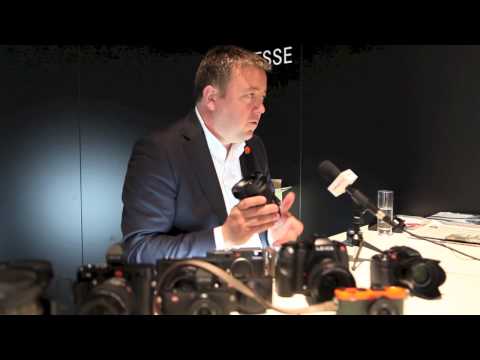 A few interesting point from the interview:
The processor used in the new Leica M is similar to the one found on the new S (known as Maestro).
The new M includes a new shutter and a new powerful battery (twice as strong as that on the M9).
According to Mr. Daniel using a whole host of accessories the new M becomes a mini-S (you can see most of them in the video).
The new M can now use all of the older R lenses – something which did not exist so far giving the M line new capabilities (macro, long telephoto etc.). This should be more comfortable using an external viewfinder (Leica choose a digital viewfinder from Olympus to be used with the new M).
The Leica ME (Credit: Ofir Iluz)
The new S includes over 80 (!) new improvements and modifications including a 2GB buffer (twice as much as the S2).
The ME is a basic M camera for photographers who are interested in a an M type camera – it has most of the functionality of the M9.
As for the names (simply M or S instead of M10 or S3), Mr. Daniel mentioned that in the past Leica sold the M6 for 18 years before a new model was announced – in the digital age models change so quickly and it creates an inflation of numbers. Leica also does not want to make existing costumers feel like they were left behind each time a new model comes out. You will still be able to tell which year the camera was produced in using "Type" and a number which can be found on the bottom of each camera (this is not very different than what happens on the car industry – Porsche 911 changed much since 1980 but the name is still the same).
Video is still a secondary capability for the M camera and stills photography still comes first – Leica wants to see how its costumers will accept this new feature and act accordingly.
Leica is looking into wireless transfer of files (from the S line of cameras to a computer) however technology isn't there yet for such large files.
The new Leica S – on display at photokina 2012 (Credit: Ofir Iluz)
The S line currently has 8 lenses and Leica is looking forward to introducing both telephoto and zoom-telephoto lenses as well as more Tilt-Shift wide lenses. Besides the Leica lenses you can already use an adapter to connect to many Hasselblad lenses.
The connectivity "trend" which currently effects the entire photography industry is also bound to influence Leica as well and the ability of the camera to connect to the web is something that we shall see in the future.
Mr. Stefan Daniel during Leica's big press event – photokina 2012 (Credit: Ofir Iluz)
Feel free to view our full photokina 2012 English coverage on our dedicated page.
The MegaPixel.co.il team were the guests of Leica for photokina 2012
This is an English version of an article originally published on the Israeli Photography website MegaPixel.co.il