During photokina 2012 which took place in late September we had a chance to interview most of the major players in the photography industry. Today we bring to you our interview with Nikon Europe which deals with the newly introduced D600 + some follow up written interview which took place several weeks after the expo ended.
During photokina 2012 we had a chance to interview Dirk Jasper Nikon's Product Manager for Professional Products and Product Planning and the go to guy when it comes to the new D600 in Europe.
Our original interview during photokina had to be cut short due to scheduling issues but Nikon promised (and delivered) answers several weeks later. One question – which many Nikon D600 owners (and even more potential buyers) are asking themselves that has to do with the supposed dust issues of the D600 was left unanswered, sadly – we are hoping to get a more official answer about this issue soon.
-
Before we move on to the interview itself, we would like to share something. Just a few minutes before we started recording the interview we talked to Nikon's PR representative in photokina and asked him about the upcoming 800mm upcoming Nikon lens. The lens was not on display at photokina this year, but to our amazement he went to the corner of the room, opened a metal box and pulled out the lens. We were quite surprised actually by how small it is (relatively speaking of course) and we were told that it might get even smaller (!) by the time its ready for prime time (sometime during 2013).
Our Exclusive image of the Nikon 800mm lens prototype in photokina 2012 (Credit: Ofir Iluz/MegaPixel.co.il)
Our interview with Dirk Jasper in photokina 2012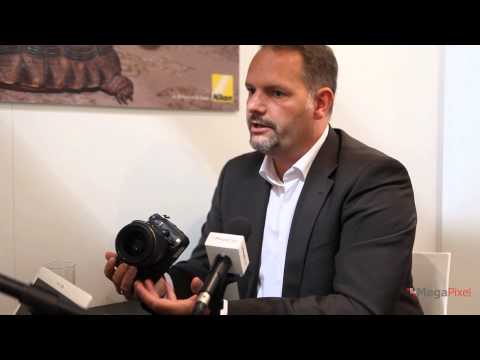 Here are some answers that we got from Dirk Jasper a few weeks after photokina:
Q: On a different interview you stated that there are differences between the 39 point focus system of the D600 and the 39 point focus system which can be found on the D7000 – can you elaborate on that?
A: With the D600 we are able to offer AF with the 39 point systems even at combined open apertures higher than f/5.6, up to f/8. The older system ensures operation up to combined open aperture of f/5.6 and not higher than that.
Q: There seems to be some confusion regarding the different ways companies choose to represent the sensitivity of their AF system. Some companies use EV (-1 EV/-2EV/-3 EV) while others talk about f numbers (f/2.8, f/5.6 or f/8) can you help us make some sense of this issue?
A: Basically we need to differentiate between the amounts of light which is on the outside of the camera. This is what we would name with EV, e.g. AF under -2 EV, which is similar to full moon light. The f-number tells at which combined aperture AF still works, referring to the amount of light that has protruded the lens. AF-metering always happens as long as the aperture is fully open, so the largest aperture opening (equaling the smallest aperture number of the lens available) is always the setting where AF metering inside the camera takes place. Autofocus at f/8 means, that the D600, D800 or D4 can still perform automatic focusing even at a maximum aperture setting of f/8, as it can happen when using a telephoto lens and a teleconverter. For the exposure itself, the aperture is closed to the preset parameter (e.g. f/16) after the metering was done and before the actual exposure starts. All of this happens in a fraction of a second.
Nikon D600 front (Credit: Ofir Iluz/MegaPixel.co.il)
Q: Did you do something in the latest reflex models to improve the quality of the external rubber parts (we got several people telling us that after some use the rubber on the grip and the rubber on the back where the thumb tend to expand an fall off)?
A: Nikon is permanently working on improving our products. This includes all aspects, including the rubber armory.
Q: Are you getting an indication from your users that there is still a need for a fast – pro body DX camera (basically a new D300S which is still in production but a few generations back in terms of sensor etc.) – this is especially important now when users have the advanced D7000 (DX) on the one hand and the relatively low priced D600 (FX) on the other hand?
A: Yes, we do get such indication. Nikon is constantly reviewing and evaluating user feedback.
Q: Do you think that ultimately (say 5-10 years) mirrorless cameras will dominate the market – not just for amateurs and enthusiasts but also for professional photographers?
A: Mirrorless cameras like the Nikon 1 system have introduced new technologies and broadened use of photographic equipment use in their own way. It's hard to say where we'll be in 5-10 years from now.
Q: During photokina 2010 we asked Robert Cristina what he thinks about the idea of adding a focus limiter in the camera (instead of in the lens). We also asked Canon and Sony what they thoughts are on this idea. Here we are two years later and Sony actually did this with their A99. Do you think that Nikon can maybe add this important feature with firmware to its existing cameras?

A: Every setting extra in a camera adds another menu point, making it more crowded. We need to balance benefits, and focus limitation is certainly a feature not used by every user and definitely doesn't make sense to use on every type of lens as well.
Q: In hindsight and looking at what the rest of the manufacturers have done – maybe Nikon should have gone with a larger (m4/3 or APS-C) sized sensor in its 1 line of mirrorless cameras?
A: Nikon had a different approach and specific goal with Nikon 1. The main idea was, to have a speedy, easy to use camera system that gives a lot of creative flexibility, even for non-experienced users. Design and system size have their part in this as well. We entered the mirrorless segment later than other competitors, but our Nikon 1 system became the market leading mirrorless system camera in Europe within a few months. So we must have done something right and the concept seems to be welcomed by our users.
Q: Many professional and semi professional nature photographers use (or would like to use) long telephoto lenses but don't require the large apertures of the high-end, large, heavy and expensive 400mm and 500mm Nikon lenses. Do you feel there is a real need for a less expensive, smaller and lighter versions of these lenses with an aperture of say f/5.6?
A: Many people forget that these wide apertures are really important, as mostly the conditions in which you have to work especially as a sports or wildlife photographer are not the best. So it is crucial to collect as much light as possible. E.g. a football stadium is a much darker space than you would expect if you look at it only from the TV perspective.
Nikon D600 in photokina 2012 (Credit: Ofir Iluz/MegaPixel.co.il)
Q: Are you going to actively encourage developers to create applications for your new COOLPIX S800C (a Nikon app store, developer rewards etc.)?
A: We don't have anything to announce at this time.
Q: Do you think that Android might be a suitable OS for a mirrorless camera (or even reflex cameras in the future)?
A: Android offers nice opportunities and we will look deeper into what options it may offer or not for the future.
Q: If you look at the Samsung Galaxy Camera it has better specifications than the Nikon COOLPIX S800C across the board (longer zoom, newer OS, larger more high-res display, 3G/4G integration etc.) – do you think this is a market segment where Nikon could really compete with the likes of Samsung who is arguably number 1 in the market (when it comes to mobile devices) – maybe you would be better off concentrating on more advanced connected cameras instead?
A: Our product is focused on the connected, smart compact camera with impressive ISO performance, combined with an attractive, open source interface with all the benefits that Android offers. Compactness is the key; a factor where we are definitely superior to other models in this segment and our huge expertise in photography is helping as well. And with regards to CDSC, Nikon is without doubt number one and market leader in Europe for quite some time. So we can definitely say, this camera is part of our core competence.
Feel free to view our full photokina 2012 English coverage on our dedicated page.
The MegaPixel.co.il team were the guests of Leica for photokina 2012
This is an English version of an article originally published on the Israeli Photography website MegaPixel.co.il